It's that time of year again – the annual Sports Technology Buyer's Guides, with this one focused specifically on the best bike computers and accessories. My goal here being to give my specific recommendations – exactly the same recommendations I'd give to my own friends and family, based on the continual usage of most of these products in product testing and comparisons – as well as just my day-to-day riding.  This list isn't here to compile every option on the market in an effort to make every manufacturer happy.  It's a condensed list of my recommendations.
Now this year I'm doing things a bit differently. Previously I had one giant page with every category: Running, cycling, swimming, action cameras/drones, sensors, etc… And this year is basically no different, except that I've split it apart into a few different guides:
– GPS Watch Recommendations (Running/Hiking/Triathlon/Swimming)
– Cycling GPS Computers (and sensors)
– Action Cams & Drones
The content is the same, just broken out into three shorter and more focused guides instead. The reason for this is frankly pretty simple: People don't search for "Sports Tech Recommendations", they search for "Best Cycling GPS". Further, I found the previous guides just got so unwieldy to make and read. These will all pop out pretty quickly (as in, over the next 12-18 hours).
Oh, one more thing, if you're new around here note that I don't take any money/sponsorships/whatever from any of the companies. That's just the way I roll. So if I like a device, it's because it's a legit good device I want to use. And if you want to support the work I do here, consider using any of the Amazon/Competitive Cyclist/Wiggle/etc links below.
With that, let's dive into it!
Best All-Around Bike GPS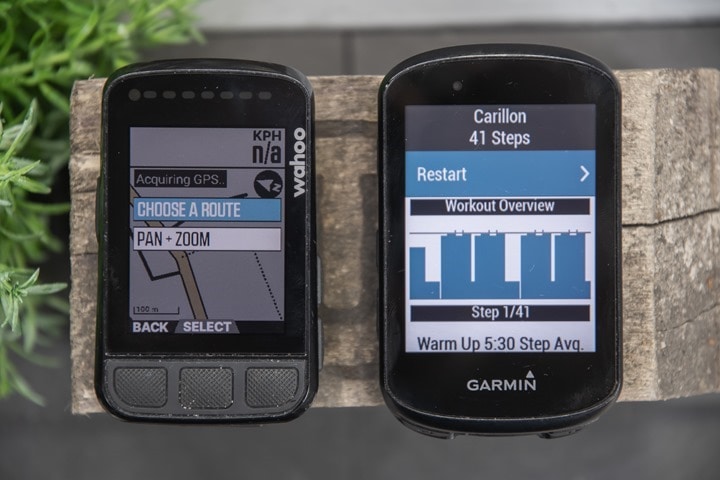 For this category we've got the Garmin Edge 530 & Wahoo BOLT (V2)
If we were to play purely a features game, the Edge 530 would win this category no problem (or the Edge 830 if you want to pay $100 more). But it's not as simple as that. For what the Wahoo BOLT lacks in features, it does make up for in simplicity and ease of use. Mostly.
Starting with the Edge 530 – it got a boatload of new features upon launch a few years back. ClimbPro being one of the biggest, which automatically shows each segment of your climbs as you go through them on a course. It's super cool for hilly/mountainous routes. Atop that, for mountain bikers, there's a massive swath of features from trail routing to jump metrics. And of course – the biggie for the Edge 530 was that it now includes detailed routable maps for your region.
Meanwhile, the Wahoo BOLT V2 added a color display this past spring, as well as full maps onboard. And it supports all the sensors you're likely to use these days, including Garmin's Varia Radar. Atop that – one of the biggest points for the Wahoo is the phone integration, which is super smooth and 'just works'. There's no fiddling with trying to get, or keep, the pairing, nor is it complicated to find features. Sure, it has fewer features (a lot less), but it's also just simpler for many folks to pick up and go. My 'mostly' comment earlier on with the Wahoo BOLT V2 is that it mostly works for me. Like, 95% of the time everything is great. And then there's the 5% of the time where something, often minor, doesn't work. This seems to mirror most of the comments in my post on it (even ones from the last few days). Still, I'd be remiss if I didn't mention it.
Both of these units are usually about $300, though the Edge 530 is on sale for $249 right now (and 159-180EUR in Europe, which is astounding). Finally, you'll notice I didn't include the Edge 830 here. Look, there's absolutely nothing at all wrong with the touchscreen-capable Edge 830. It's simply that for the vast majority of people, the Edge 530 has everything they need (including me). I use the units interchangeably, and don't have any issues with the touchscreen – but also don't miss the Edge 830 when I'm using the Edge 530. To each their own!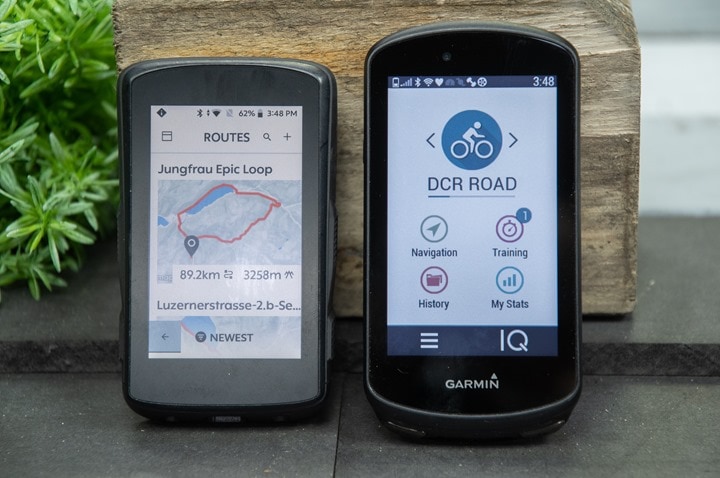 In this case, the two picks are the Garmin Edge 1030 Series & Hammerhead Karoo 2.
When it comes to depth of mapping features with no price limit, there's really no competition here – the Edge 1030/1030 Plus wins every time. Note that Garmin released the Edge 1030 Plus last summer (2020), which includes a handful of new features, but many of those new features have been added to the original Edge 1030 since launch, and Garmin continues to add new features to the base Edge 1030 (even just last week). So if you find a good deal on the Edge 1030, I'd grab that.
If you want to do it from your handlebars, there's a pretty darn strong chance the Edge 1030 can do it. It's a bit bigger than I probably need, it does things well and there's no touchscreen issues. I don't really know of anyone that doesn't love their Edge 1030/Plus. Even the comments mirror that on not just my review, but all reviews. People are happy there, minus a few folks with a blue halo display issue – but support seems to take care of them pretty quickly, and Garmin says they've long since changed the manufacturing cause of that.
Next, we've got the Hammerhead Karoo 2. They continue to add an astounding number of new features to not just the Karoo 2, but the original Karoo as well. The whole Karoo series if you will. The Karoo 2's display is brilliant – by far the best in the business – and the features and user interface continue to get refined. On average, Hammerhead releases new features every 2-4 weeks for it. Seriously, just look at this list, and then tap into any of those update compilations. They support virtually every cycling sensor type from radar to bike lights, and their mapping engine is quite good.
This past year they added CLIMBER, which is kind of like Garmin's ClimbPro, except prettier. It'll show more details than Garmin's ClimbPro, though in some cases the exact gradient accuracy isn't quite as sharp with that additional detail. Still, it's awesome. And price-wise, it's substantially cheaper than the Edge 1030 Plus.
The big-ticket differences between the Garmin and Hammerhead units here are more about structured training and physiological tracking. While Hammerhead does do structured workouts, they don't support TrainerRoad or many other platforms. Further, they don't have any of the training load/recovery bits that Garmin does. Now, whether or not you find that useful is a different question.
Finally, why not the Wahoo ROAM? Well, it's just far outclassed these days by the Hammerhead Karoo 2. Both in mapping capability as well as general features, the only exception is Wahoo has TrainerRoad outside workout integration and Hammerhead doesn't (though, Hammerhead has hinted at that for about a year now). And from a mapping standpoint, the Hammerhead has a full onboard database of actual street addresses, versus the more limited dataset that Wahoo has.
Best Budget Bike GPS: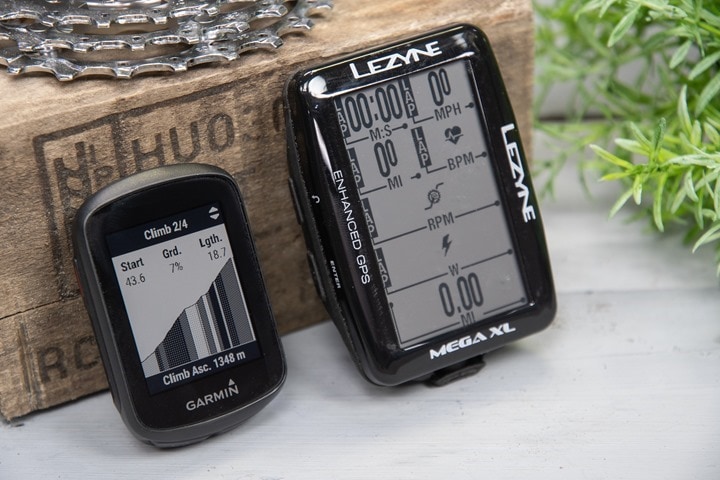 My two picks here are the Lezyne Mega-XL & Garmin Edge 130 Plus
There were almost no new launches in this category this past year, only removals. Previously I included the Stages Dash L10 in here, but that's been discontinued, leaving previously just Lezyne. But the Edge 130 series prices have crept down while Lezyne's have mostly stayed the same (fair enough).
We've got the Lezyne Mega-XL at $199.  Lezyne has like 38 different models between $100 and $200, I tried to explain it all here a few years ago, and then they added more. They've all got minor nuances.  These units can do basic mapping, and pull in routes from sources like Komoot, as well as legit turn by turn navigation in terms of things like saying 'Left on Maple Street'. The Lezyne units support both ANT+ & Bluetooth Smart. And as I write this, the Lezyne Mega-XL Yellow Submarine Edition is 35% off at $129.
Meanwhile, the Edge 130 Plus sits at $199 normally, but is $149 right now. Most notably, it's tiny. A fraction the size of the Lezyne. Of course, it doesn't have the full mapping like the Lezyne, but does have breadcrumb routing and Strava Live Segments. It also has Garmin's ClimbPro in it, which shows the details about the current climb you're on. The Edge 130 Plus also has mountain bike metrics (such as grit/flow/jumps), as well as LiveTrack showing your planned course/route. Probably the biggest difference aside from mapping between this unit and the Lezyne is the app/ecosystem polish, where Garmin is a fair bit ahead of Lezyne. But figuring out which feature is most valuable to you is key.
Finally, it's worthwhile noting that the Sigma ROX 2.0 & ROX 4.0 at least deserve an honorable mention in here, at $90 and under (and a bit less in Europe), they include turn by turn routing from Komoot, as well as ANT+ & Bluetooth Smart sensor integration. Seriously, it's pretty impressive. I just haven't spent as much time as I'd love to with them to root out any quirks.
Best Bike Sensor Accessories: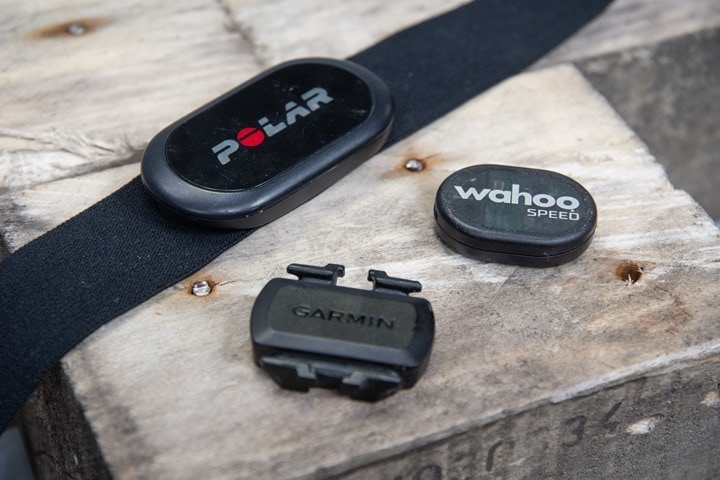 If you're getting any of the units listed above, you may be in the market for accessories.  Obviously, some bundles include accessories, while others do not.  Here's what I recommend based on having entire buckets worth of accessories to test with.
No matter which sensor you get, ensure it's dual ANT+/Bluetooth Smart. It's virtually impossible to buy something that isn't that these days, but just want to note that. Ideally, you'd also buy something that's multi-channel Bluetooth too (like the latest sensors from Polar, Garmin, and Wahoo), just in case you need to connect multiple things to that sensor at once (such as Zwift and a watch).
Heart Rate Sensor (Chest strap): Polar H9/H10 and Garmin HRM-DUAL
Looking for a non-optical HR strap? I almost exclusively use the Garmin HRM-DUAL and the Polar H9/H10 these days, with a side of the Garmin HRM-PRO if I'm doing some running stuff. I generally use the Polar H9 at home for trainer workouts, and the Polar H10 at the DCR Cave. There's no logic to that other than me bringing home the H9 one day and it staying there. The H10 simply has the ability to record the workout itself, if you want. I almost never use that feature since it's kinda cumbersome.
While the Wahoo TICKR has been on this list for years, and it's still generally a much-loved strap by many – I (and my wife) have been having some frustrating times with a few of the newer units lately (dropouts namely, both TICKR & TICKR-X). This seems mirrored by friends I know. Therefore at the moment, it's in the penalty box.
Finally, it's worth noting that there are dozens of chest straps out there. And yes, most of them will work just fine. However, I've found long-term that buying from one of the well-known brands tends to produce the best results. For example, it's almost unheard of to hear a complaint about a Polar H9 or H10.
Oh, one note for Garmin users who also run:
If you're looking for running dynamics with your Garmin device, that'll require an HRM-TRI, HRM-RUN, HRM-PRO, or RD-POD – or, more recently the Wahoo TICKR X 2020 can do that too. The HRM-PRO is the only one of that group from Garmin that's dual ANT+/Bluetooth Smart, and despite being pricey, it's what I'd recommend if you're a Garmin user that wants Garmin Running Dynamics. While the TICKR X does transmit the Running Dynamics standard, just be aware that it lacks a few fields that the Garmin straps do.
Similarly, if you're planning to be a Wahoo RIVAL user, I'd veer more towards the Wahoo TICKR X than the Garmin straps, since the TICKR X transmits additional Running Dynamics data that the RIVAL doesn't yet see from the Garmin straps.
Heart Rate Sensor (Optical): Polar Verity Sense
If I'm using a standalone optical HR sensor, it's almost undoubtedly the Polar Verity Sense, which is basically a slightly updated version of the Polar OH1+. Not only does it broadcast dual ANT+/Bluetooth Smart, but a simple extra button push will record the workout to memory and then sync easily into Polar's Flow app/platform (and onwards to platforms like Strava, if you want it to).
While in years past I've recommended the Scosche Rhythm/Rhythm 24, the app experience just isn't what Polar's is. Little things like having only a handful of hours of onboard storage for that is tough – whereas I can record boatloads of workouts to the Polar Verity Sense and it happily syncs them all down the road. Plus, you get the entire Polar training analysis ecosystem along with it.
Cadence-Only: Wahoo RPMv2 or Garmin Cadence V2
I'll use either unit, when I use one at all. Both transmit dual ANT+/Bluetooth Smart cadence signals, however the Garmin also transmits a second pairable cadence signal. For cyclists using a watch that's Bluetooth Smart only (like Polar or Suunto), this would allow you to concurrently pair it to your watch for tracking your workout there, as well as pairing it to your smart trainer app like Zwift.
Note that technically I find the Garmin ANT+ cadence-only attachment system slightly better than Wahoo's, as it doesn't require zip ties and instead uses an industrial-strength rubber band.  But that's probably not a big deal for most people.
Speed-Only: Wahoo SPEED or Garmin Speed V2
While I rarely use a speed sensor on my regular road bike, I do use one on my commuter and cargo bikes – simply to track mileage. The Garmin V2 sensor will act like a normal dual ANT+/Bluetooth Smart speed sensor, but it'll also quietly download a copy of every ride to your Garmin Connect account (and then onwards to connected apps like Strava).
If you don't care about that, then realistically it won't matter which sensor you use. Like the cadence sensor, the Garmin does have dual-Bluetooth Smart as well as being dual ANT+/BLE, but for an outdoor unit that's frankly less important. Again – either the Wahoo or Garmin one will work just fine – both are dual ANT+/Bluetooth Smart.
Best Safety Sensor: Garmin Varia RTL-515 Radar
We've seen radar usage increase among cyclists as well as bike computer makers, supporting the Varia Radar (the RTL-515 is the current version that combines bike lights + radar, the RVR315 is just the radar). It's now supported by virtually all major cycling bike computers: Wahoo, Garmin, Hammerhead, Stages, Bryton, and others I'm probably forgetting. There's good reason: It's an awesome little device that helps cyclists keep safer. I've yet (still!!!) to find someone who bought one that is unhappy with it.
It's on sale right now for the holidays, so that's noteworthy too. Also noteworthy is that for many years I've included the Cycliq Fly 6 in this category, which is a combination bike light + safety camera. But given their removal of a slew of features in its most recent edition, in combination with an increase in customer service complaints, I've decided to skip it this year. I love the concept of the device, but removing the ANT+ integration was silly, since that helped improve safety by automatically turning it on, and starting recording when you started a ride.
Trainers, Apps, and Power Meters:
Now if you're looking for indoor trainers or trainer apps, then check out my two dedicated posts on that. My trainer post is from a year ago, but…umm…there have been almost no new trainers since that timeframe, except the JetBlack VOLT, which you can slot into the mid-range recommendations category just fine. There's also my previous trainer app guide, which helps you get the lay of the land.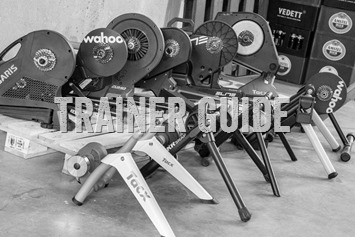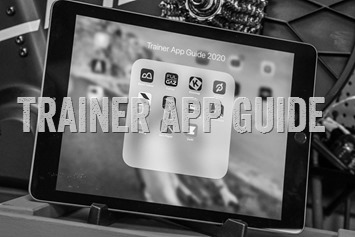 And finally, power meters. Yes, I know I need to desperately release a 2021 guide. To quickly recap the year that was:
We saw Garmin refresh Vector 3 by renaming it Rally, and adding secondary pedal types that you can swap yourself (SPD-SL, SPD, and the previous Look KEO). Some 7 or so months later, people still seem pretty darn happy there. Favero added Shimano SPD-SL compatibility to their Favero Assioma lineup, and Wahoo has further delayed their Speedplay-based power meter. SRAM introduced their RIVAL power meter, which I didn't find accurate in my limited testing before SRAM took it back. I haven't seen it since.
Then there's Shimano R9200P that was announced at Eurobike. Shimano says (as of last week) that won't start shipping till February, yet oddly, it's already showing up on full bikes in retail shops. SRM did recently release a new SRM PM9, which adds temp compensation (finally!) and Bluetooth support (also finally!). I haven't tested either yet. Companies like 4iiii & Stages continue to offer solid options in this space, especially for affixing a unit to an existing crankset.
Beyond that, there's been the usual slate of largely no-name brands in Asia with mostly single-sided units. The accuracy, purchasing, and support experience seems mixed at best. Given the cost of name-brand power meters with good support and such continues to drop, it's hard for me to recommend buying something off AliExpress for what is often just a few dollars in savings. Oh, and PowerTap units have ceased being produced/shipped in any fashion. SRAM bought them out a few years ago, but now the PowerTap brand seems either on long-term leave, or dead.
I suppose I just re-wrote the power meter buyers guide in like 4 paragraphs instead of 40 pages.
Wrap-Up: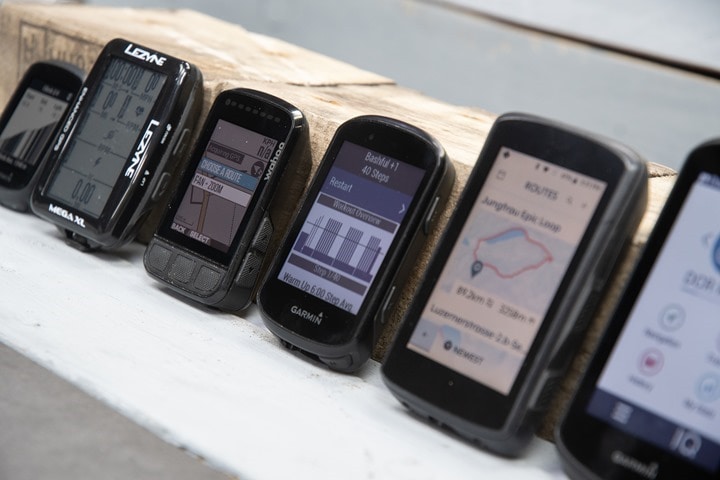 Most of these products being on this probably aren't a surprise. They shouldn't be anyways. After all, they don't generally become industry-leading products by being crappy. And that's especially true in the cycling world, where we as users tend to place more emphasis on reliability and function, than form. After all, this is really the first year that all of the contenders in the All-Around and High-End category have had color displays. Meanwhile, the budget tier keeps it real with simplicity.
No matter the case, you won't go wrong with any of these. They're well tested, not just by me for in some cases years on end, but also by countless others.
Invariably, folks will wonder when refreshes of the different units might happen. While that's hard to predict for any given unit, historically speaking we don't tend to see new bike GPS computers until the April timeframe (often tied to the Sea Otter event). And broadly speaking, that's when virtually all companies tend to release units. Except in years when companies release bike computers at Eurobike, which was historically the last few days of August. But with that moving to July now, there's little reason to announce something bike-computer-wise then. It kinda misses the boat (as did Eurobike, frankly).
I suspect almost all companies will shift to the April/May timeframe (or earlier), partially because it just makes sense. That's when people are looking to buy units for the upcoming Northern Hemisphere outdoor cycling season.
Hopefully, no matter what is released down the road, we see companies continue the recent trends of releasing firmware updates for older bike computers, rather than just pumping out new ones without features for perfectly hardware-capable units. We've seen good older-unit firmware updates from Garmin and Hammerhead especially, but also Wahoo and Lezyne to a lesser extent but still participating in that party.
With that – thanks for reading!